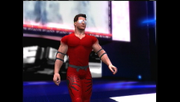 Name: Chris Wilson
Nickname:
Born: May 19, 1950
Reside
Chris is an indy canadian wrestler that sign with Global Wrestling.
Lightweight title Era
Edit
Chris won the Lightweight title from Tony St. Clair in GWL episode 4. Chris would later lose the title to DK Murphy in episode # 5
Match of the Year award
Edit
In GWL Episode 5 was awarded Match of the year in his match aganist Tony St. Clair. in GWL episode # 4.
Ad blocker interference detected!
Wikia is a free-to-use site that makes money from advertising. We have a modified experience for viewers using ad blockers

Wikia is not accessible if you've made further modifications. Remove the custom ad blocker rule(s) and the page will load as expected.