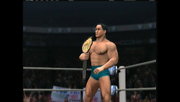 Name:Frank Lewis
Nickname: The Hammer
Born: January 2, 1937
Reside: Montreal, Canada
Frank is a vetern wrestler that has wrestle most in europe  but debut in the US with GLW as the World Champion. Frank was give the nickname the Hammer because of his strikes are know to feel like a hammer.
Era as World Champion
Edit
Frank brought the World title from europa but later lost the title to Jack Harris on GLW episode 1.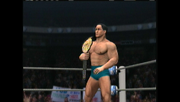 Second World Title
Edit
After little jounery back to the top In GLW episode 3 Frank Lewis defeated Jack Harris and won his second World title. The match was give 4 star by TV rating systems. In Episode 4 Lewis run would end when he lose the title to Carnage.
Thrird World title
Edit
In Global Wrestling episode 9 Lewis his third World title by defeating Rick Stanford. Frank also was awarded the Undisputed Champion award. Lewis lost the title at Super-Show Soul Survivor.